PROGRAMMES
Current Programmes
Earlier Programmes
With this varied programme, Banchetto Musicale, we hope to tickle your palate with a musical banquet in which we get out our best silver service, recorders of the highest quality in all shapes and sizes, and use them in 1001 different ways. To live up to the title, we're even performing on beer and wine bottles from our own cellars!

… a home-made culinary version of hits from old and modern international cuisine. A dish to tempt even the greatest connaisseur…
Circa 1600: one of the most intriguing periods in the history of music. Throughout Europe, polyphony holds sway. In Italy, with Florence and Venice as the nuclei, a new style emerges. The baroque era has commenced. Composers aim to arouse feelings in listeners primarily with virtuosic diminutions, harmonically supported melodies and expressive intervals. This rediscovery of pure instrumental music and its emancipation from vocal music was expounded by Monteverdi, Gabrieli and others.
For its Silver Jubilee, the Flanders Recorder Quartet is presenting a very special project. We're not celebrating alone, but with friends in a remarkable configuration of recorder quartet, string quartet and harpsichord. This might seem an unusual assemblage anno 2012, but in the baroque era this combination was the customary fashion. The nobility and sovereigns, who liked to boast with art and music, ensured recorders, strings and harpsichord were present at public feasts and celebrations, to be ardently listened to or in the background as 'Tafelmusik'.

Our anniversary repertoire consists of top hits from the baroque era. It goes without saying that Johann Sebastian Bach cannot be left out of such a celebration. Bach's music is the highlight of the contrapuntal tradition. The apotheosis of his oeuvre is his last composition Die Kunst der Fuge, but also the Brandenburg Concertos are carved in the public memories. The only digression we recorder players might accuse Bach of, is having not written anything for our ensemble, the recorder quartet. On the other hand the name of Antonio Vivaldi has a strong connection with our instrument. Vivaldi wrote whirling concerti for the recorder, and was also a potent inspiration to Bach who arranged some of Vivaldi's works and even improved them. The result of this esteem can be heard in the two concerti in this programme, reworked by the FRQ for recorder quartet, strings and basso continuo.

FRQ has been bitten by the recorder bug, and has been inspiring composers to write for them resulting in more than fifty commissions over the last quarter of a century. The skilful and beautiful music or our friend-composer Piet Swerts cannot be left out of this programme. Swerts' recorder music is, without a doubt, one of the highlights of the instrument's modern repertoire. A few years ago he was asked to provide a prescribed piece for the Queen Elizabeth Competition and the FRQ has dedicated a whole cd to him. His magically minimal piece Motion is the alien of this concert programme situated between the baroque works.

Which music are U waiting for?
At the entrance of the concert FRQ asks the audience to cast their vote; U choose the programme yourself from a selection of 100 greatest recorder hits ranging from the Middle Ages until 2009. FRQ's Jukebox is a plea for the recorder in all its glory!

Bach's magnificent architectural passacaglia as an evening entertainment? Or do U prefer Eastern improvisation and bluesy songs? No problemo: U vote, we flute!

Music experienced a Golden Age during the reign of Queen Elisabeth I (1558-1603) and flourished as never before. Composers quested to equal the beauty of the 'music of the spheres'. They came as close as possible to achieving their ideal. The consort song was the perfect compositional form with which to illustrate the godly celestial harmony. The sweet sound of the recorder was often compared to the human voice. Just as the FRQ today, back then one enjoyed making music in recorder families, ranging from the handfluyt to a great-bass some 2,3 meters in length.

The Darke is my Delight; English music from around 1600 for soprano and FRQ with compositions by Byrd, Morley, Ferrabosco and many more.

Venice stands for mystery, amazement, contrast, unexpected discoveries, incredible beauty and la dolce vita. This Northern Italian city will eventually disappear in the water as the level of the Adriatic Sea is vastly rising, but its divine music will never seize to exist. Early improvisation, renaissance top hits, prima and seconda prattica with music of anonymous composers, Isaac, Agricola, Ciconia, Merula and others.

To quote an astonished Franz Liszt: "Venice, such a deep enchantment"

Educational Programmes
A Song for all Seasons, instrumental music and songs from the Renaissance

Flanders Recorder Quartet, recorders & Cécile Kempenaers, soprano

Changing times of the year, the four seasons..., from the beginning of civilisation people have thought about these eternal changes and many artists have realised their own visual and aural interpretations of them. We undoubtedly experience the seasons differently from our ancestors, less extreme, with our well-heated houses in the winter, the coolness of air conditioning in the summer, and the protection that cars, busses and trains offer from heavy showers in March or storms in November. People in the Renaissance had a very different experience.

The changing seasons had consequences for everything; for work, for travel, for food that varied every season, for the rituals that belonged to each one of those phases. Visual art from mediaeval and renaissance times allows us to see the differences between the various times of the year, a visual aesthetic that was shared only by a privileged few at that time.

Moreover the fascination for the changing seasons was not reserved only for the visual arts, as they are also prominent themes in literature and music. This programme offers some instrumental examples from Italy and Flanders, but also examples in which great English renaissance poetry forms part of works of music, in the so-called consort songs. We encounter texts by Shakespeare and Ben Jonson, in his time more famous than the bard from Stratford-upon-Avon, in beautiful settings by some of their contemporaries.

Italy, Flanders and England all provide inspiration for A Song for All Seasons, a varied programme of music from the Renaissance for recorders and soprano with works by composers such as Richard Nicholson, William Byrd, Robert Parsons, Pierre de la Rue, Giuseppe Giamberti, John Dowland, Thomas Simpson and more.

Finding the Flemish in Rome
In residence at the San Giuliano dei Fiamminghi hospice

San Giuliano dei Fiamminghi is the national church of Belgium in Rome. The small but beautiful building stands at the heart of the old city, situated between the imposing San Andrea della Valle and the Largo Argentina. San Giuliano first served the counts of Flanders, with a history going back more than a thousand years. Four allegorical figures representing Flanders adorn the church's front beneath the words:

ECCLESIA S. GIULIANI HOSPITALIS FLANDRIAE

According to tradition, the hospice of Saint Julian in Rome was founded in the eighth century. It is said that count Robrecht II of Flanders visited the foundation on his way to the Holy Land in 1096. Apparently, right after their conversion to Christianity, the Germanic people flocked to the places where Saints Peter and Paul were being revered, sparking the creation of guest houses to welcome the pilgrims of various nationalities.

The first mention of a chapel to Saint Julian date from the fifteenth century. After the Great Schism, the return of the papal court to Rome ushered in a new golden age. Following the Curia came a new surge of foreign immigrants, making Rome a communis patria, a homeland for all. Not least among them were the Flemish, the Fiamminghi, who created their own infrastructure to deal with the large number of visitors from the home country. Archives going back to the fourteenth century attest to the operation of the guest house; for example, a full set of statutes and regulations for the Flemish pilgrim hospice from 1444.

A meticulously-kept register of pilgrims, started in 1624, gives us an impression of the steady stream of pilgrims from the Southern Netherlands to the Eternal City. Between 1624 and 1790, no fewer than 21,213 mostly Flemish travellers found a place to rest. Furthermore, the books of San Giuliano show how the foundation intervened on behalf of robbed nobles, mortally ill people coming off the papal galleys, and seamen captured with their entire families by North African pirates, only to be released after paying hefty sums of money.

From the early sixteenth century on, Rome became even more attractive after the rediscovery of Antique culture. Cultivated by the art-loving Renaissance popes, the city became a dazzling centre of culture, drawing painters, sculptors, musicians and scientists. Foundations like San Giuliano provided the support for all those fifteenth- and sixteenth-century newcomers, making Rome a second homeland for shoemakers, carpenters, jewellers, glass painters, tailors and soldiers as well. The rich among the Roman Flemish community, including prelates, merchants, successful artisans and artists, served on the hospice's board of directors and were also members of the related Saint Julian confraternity. This society had a religious as well as a material dimension, since its members stood by their less fortunate compatriots in times of joy and need. But San Giuliano provided more than material support: the small church was a friendly meeting place for all Romans who called the Southern Netherlands home.

Between 1798 and 1814, the organisation of San Giuliano fell when the French took over control of the foundation. Later, the church became the property of the Kingdom of the Netherlands, and eventually of Belgium. Meanwhile, the goal of the foundation has remained the same as written in the old statutes: serving pilgrims - fellow Belgians staying in Rome or visiting the Eternal City.

Flanders Recorder Quartet enjoys the hospitality of the Hospitium Flandriae looking for the Fiamminghi who dominated Europe musically during their stay here.

A concert programme with music of those who once were guests at San Giuliano hospice: Guillaume Du Fay, Johannes de Stokem, Heinrich Isaac, Josquin des Prez, Jacobus de Kerle, Orlandus Lassus, Philippus de Monte, Jean de Macque and others
Final Favourites … perhaps the best theme for a concert tour: our audience's favourites, doubling their applause, coupled with our own favourites. That is the compilation of this concert programme.

As a prelude we have chosen Bach's Passacaglia. We cannot comprehend that Bach was only 25 years old when he composed this masterpiece. To a beautiful ostinato he invented endless variations, each with its own mood and as if this wasn't enough, he added a fugue to this ostinato theme. On an organ, for which this composition was originally intended, it sounds grandiose and impressive but this work is so strongly conceived that the instrumentation is not all that important. Totally different from an organ version, a recorder quartet sketches the different contrapuntal lines more intimately and makes them crystal-clear. We have been playing this composition for many years and are still making new discoveries.

The popular character, the less complex structure, the remarkable improvisations, the relaxing drones and the suggestive percussion are typical of the medieval section. Each interpretation invites something new and on stage the subtle intercommunication within the quartet encourages risk-taking, enhancing our communication with the audience. This medieval section functions like a wonderful film where you repeatedly see changing scenes: melancholic, exciting, triumphant, colourful, seductive …

Robert Parsons's Ut, re, mi, fa, sol, la, one of our own favourites, never doubles the length of an applause. On the contrary, for some music lovers this abstract music is heavy weather. However, when playing it we really enjoy the ingenious architecture and the fascinating contrapuntal texture. Here the consort sounds at its best: transparent, even, compact, suggestive. After a quiet and delicate beginning Ut, re, mi, fa, sol, la develops into such a complex rhythmic structure that it ends in an extraordinary apotheosis which could easily be thought impossible in 16th century music.

We like to conclude a concert with Capriccio and Volta from Simpson's Taffelconsort. One by one we leave the stage whilst the music continues to sound in the audience's minds. Such a frivolous and energetic conclusion is a tasty dessert after a delicious main course.

Bach had an enormous admiration for Vivaldi. So compelling was it that he reworked five of the twelve concertos from L'Estro Armonico for different instruments. The FRQ takes this further still and has transcribed this concerto for recorders. Vivaldi's slow movements excel in their melodiousness and simplicity and form a strong contrast with the virtuoso and high-spirited fast movements. Despite these appealing qualities we have opted for Bach's version with its gracious ornamentation, richer counterpoint and daring chords.

Quite a while ago we discovered the English composer Hugh Ashton, unknown to us at the time. Among his works we found this artfully composed work with particularly rich, frolicsome middle voices to a simple ground. We play it on copies of Virdung recorders (1511), made by Adrian Brown. These recorders have a brilliant tuning to a' at 520 Hz. The articulation of these instruments is also extraordinary: they click and they spit, with some hiss here and an uneven plop there. Even so, this impurity makes the music attractive and alive, straight from the musician's heart, head and hands.

The Italian composer Costanzo Festa was enthusiastic for a real tour de force. For this purpose he used La Spagna, a popular 15th century tune in long note values. That is the base for his 125 (!) Contrapuncti and on that cantus firmus he created miniatures full of contrast and atmosphere. In a letter to Filippo Strozzi, Festa described his Contrapuncti as follows: "… these contrapuncti are good for learning to sing in counterpoint, to compose and to play on all kinds of instruments". This sounds modest but his Contrapuncti deserve much more than being called 'pedagogical exercises'.

In Descendit Angelus Domini by Clemens non Papa we present the biggest of all recorders, the renaissance great bass. Such a low sounding recorder consort has a touch of magic, generating peace and quiet and encouraging contemplation. Every time the audience is amazed when these contrabass recorders are introduced, even though these instruments were very common during the renaissance because, according to Praetorius, "they fill the room with their heavenly soft and sweet sound". Later on in that same 17th century Samuel Pepys also enthused about recorder sounds: "the wind-music when the angel comes down, which is so sweet that it ravished me; and indeed, in a word, did wrap up my soul so that it made me really sick, just as I have formerly been when in love with my wife".

With Matthew Locke we opt for pure beauty and we are not alone in our appreciation. In 1728 Locke was cheered by Roger North in his Memoires of Musicke: "Mr. Metthew Lock was the most considerable master of musick after Jenkins fell off…until finally giving way to the devine Purcell". Despite its exceptional nature, Locke's brilliant repertoire is not often performed. It contains bizarre rhythms, gracious ornamentation and daring harmonies. This was not to everyone's taste. King Charles II, for example, condemned these pieces because he could not tolerate music to which one couldn't beat a regular time.

The last three Final Favourites are real encores: pieces that have to sparkle and flatter the ears and which can have totally different musical origins. The only condition is that they conform to Christoph Willibald Gluck's opinion: "Music is not only an art to pleasure the ears but also counts as one of the greatest ways to move the heart and to evoke feelings.
J.S. Bach is without doubt the greatest musical genius that Western culture has produced. Bach composed relatively little for the recorder. This is the only error that we, as recorder fanatics, can perceive in this genius of a composer. In this programme FRQ brings you arrangements of beautifully expressive chorals, lively Italianate concerti, highly inventive preludes and fugues, and a monumental passacaglia.
Four personalities, four individuals melt together, as it were, into one player...
The Final Chapter, 30 years Flanders Recorder Quartet

Anniversary & Farewell

With the concert programme Final Chapter, Flanders Recorder Quartet delivers its signature style for the last time. Tradition has it that the ensemble introduces a new programme every anniversary year, one that is not only a fiery plea for the instrument, but likewise touches the senses of the listeners – connoisseurs, enthusiasts and random passers-by – and quickens the pulse. Several centuries are explored, smells and colours replenish each other or give indications of a contrasting musical structure. We will turn our attention to transcriptions of music for organ and traverso. Compositions vary between old and new, and include two new commissions; the unexpected is fulfilled by up-tempo swing repertoire. Final Chapter stands for a great celebration of the recorder, one final burst of colourful fireworks.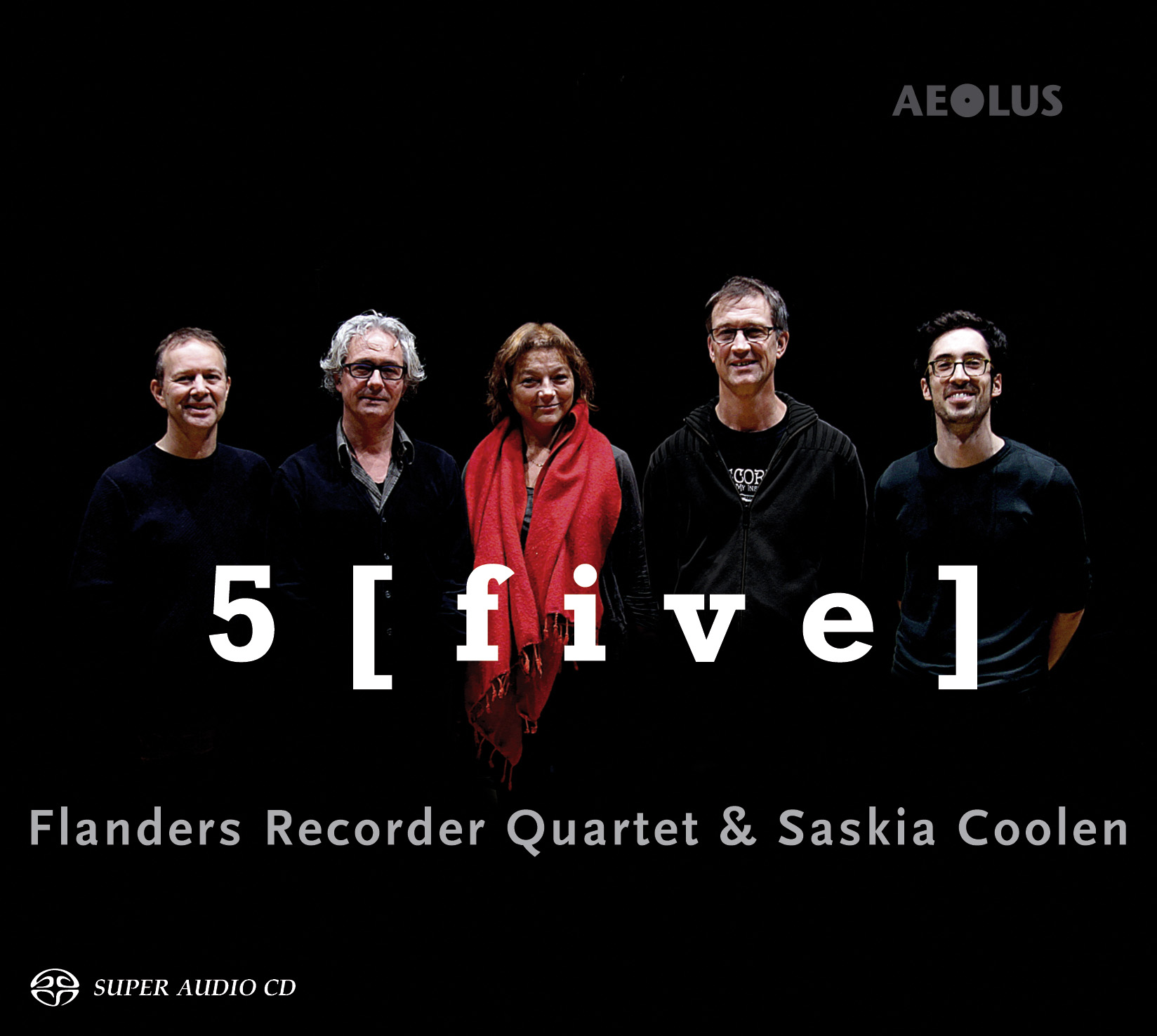 5 [five], released June 17, 2017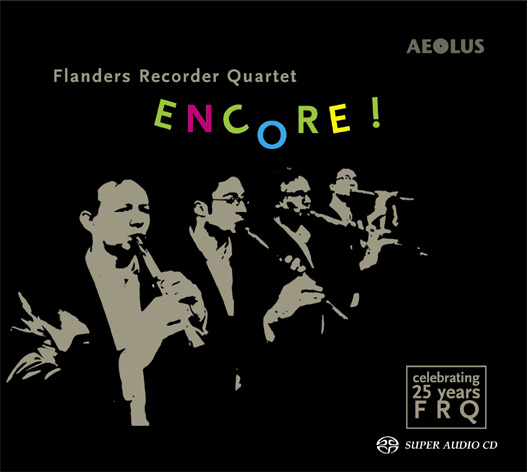 Encore!, released October 12, 2012
frq
January 01, 2019
Flanders Recorder Quartet played their last concert in December 2018. Thank you for the support throughout the years.
This website will remain online but won't be updated any more.